I warned you about me and apples.
I'm on a roll lately...getting in my fill of apples while they are fresh and crisp.
I came across this recipe for

Honey Apple Pancakes

in a Better Homes and Garden book and loved the ingredients that were used. Much healthier than a normal pancake recipe with the use of honey and apple juice. They state that a 2 pancake serving has on 3 grams of fat, 22 grams of carbs, and 1 gram of fiber. I helped this along by using a "lite" apple juice, which has 1/2 the sugar content, and topping it with sugar-free maple syrup.
The best part? The apple flavor. So warm and comforting! And these pancakes rose very very well! Such a great recipe with great flavors, I had to share!
Here's how the batter looks when preparing it.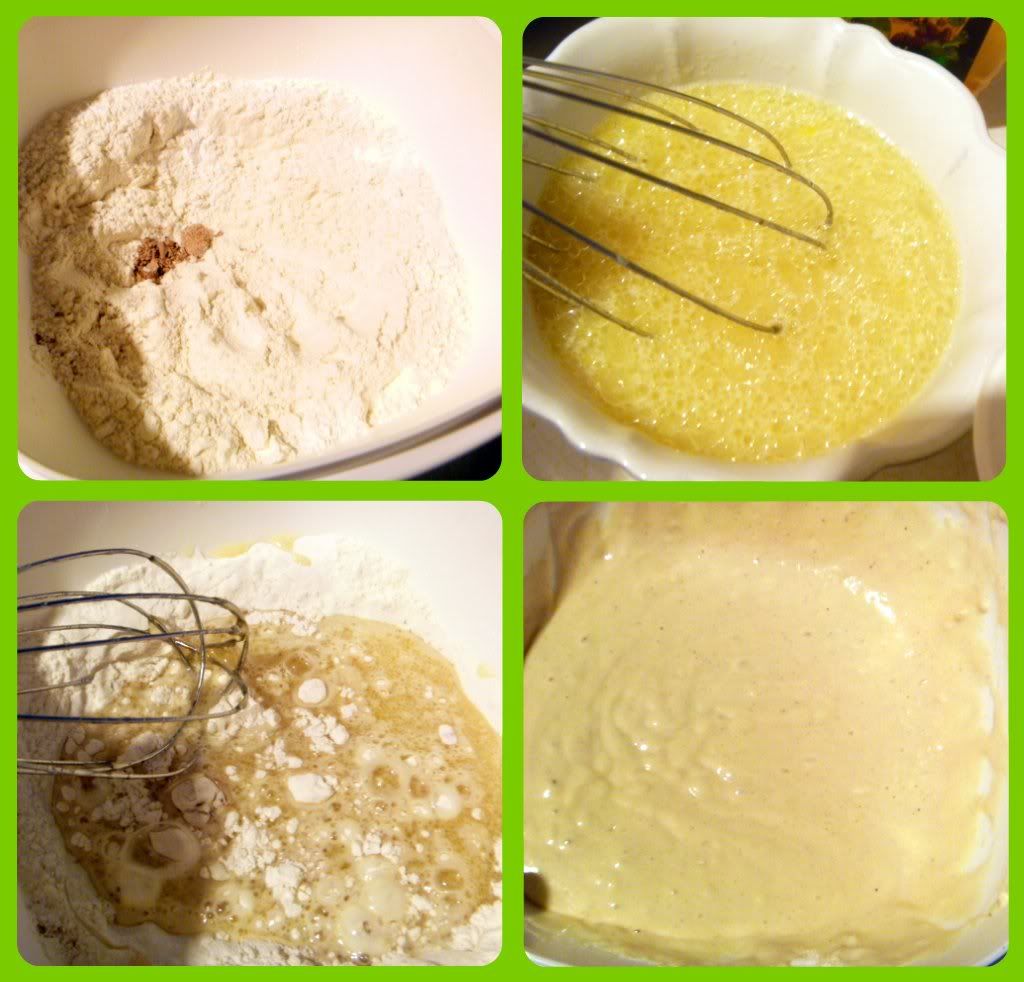 The end result?
You tell me...
Hope you enjoy them for your weekend breakfast or brunch!
Honey Apple Pancakes
adapted from Better Homes and Gardens
Servings: 8 - 4 inch pancakes
1 1/4 cups all-purpose flour
2 teaspoons baking powder
1/4 teaspoon salt
1/4 teaspoon apple pie spice
1/8 teaspoon baking soda
1 beaten egg
3/4 cup lite apple juice
2 tablespoons honey
1 tablespoon cooking oil
cooking oil spray
In a medium mixing bowl, stir flour, baking powder, salt, apple pie spice, and baking soda. In a small mixing bowl, beat egg slightly; stir in apple juice, honey, and oil. Add egg mixture all at once to flour mixture; stir until blended but still slightly lumpy.
Lightly coat a nonstick griddle or skillet with cooking oil spray and heat over medium heat. For each pancake pour about 1/4 cup batter onto the hot griddle or skillet. Cook 2 to 3 minutes or until pancakes have a bubbly surface and slightly dry edges
. Turn and cook 2 to 3 minutes more or until golden brown.
Linked to:
Melt in your mouth Monday